Takumi Village's Tool store is on the north west side of the village. Shinobi can come here to purchase projectile weapons to add to their arsenal in order to become a better ninja.
Inside of the Building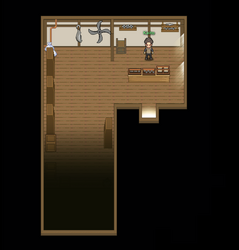 Inside of the shop, the players are able to interact with an NPC named Kaito who sells projectile weapons at lower price to anyone who wants to buy. He sells weapons like Shuriken, Kunai, Senbon and Explosive Tags. Most weapons has a scaling with certain stats. Shuriken are based off of Intellect, Senbon off of Chakra, and Kunai off of Stength.